1/7/2017
A few words about portfolio rotation, present and past...
Yesterday we announced the impending closure (to sales) of part one of "Codi and the Cannibal Dining Society." If this story is something you've been considering purchasing, you should act now or be prepared to wait about one year before having the opportunity return.
As most of our regular visitors know, we took an almost two-year hiatus from producing new work. Because the portfolios in the top six slots of our main portfolio page had been up for so long, we decided not to announce any closures and simply replaced them when we started producing new work last July. Since we've been scheduling monthly shoots now, for the last half year, we are going back to our old system of announcing the closure of an out-going set and then waiting one additional week before replacing it with a new in-coming set. This means that you can expect any newly-posted "current" portfolio to be available for about six months.
We've also been getting a number of emails from customers (and would-be customers) asking how they can purchase a particular past portfolio. The short answer is patience and vigilance.
Here is how the "Pot-Luck" section (the bottom ten slots on our main portfolio index page) works: We maintain a private database where we keep track of all portfolios and the dates that they were first published and last posted. We change out the contents of Pot-Luck slots by a combination of ordered and random. Ordered means that we try to bring back past portfolios about one year after they were last available for purchase. Random means we do these content swaps without prior warning or any announcements. Because we have now made over 150 portfolios, we are trying to change the contents of any slot every three or four weeks (sometimes even less, as in the case of really early work).
Here's what all this means to anyone wishing to purchase a particular portfolio:
1) Make it a point to check our main portfolio page once each week.

2) When you see something you want, get it -- it may not be there next time you check.

3) If you like something in our "current" section, don't wait too long to purchase it.
We get that this is not completely convenient for everyone out there but, given the smallness of our site, its rather limited niche appeal, and the fact that our budget simply doesn't allow for setting up payment coding for every shoot we've ever done, this is really the most practical way to handle it. If you want something from our past catalog, you will need to be patient in waiting for it to reappear and vigilant about checking in once per week and then purchasing it as soon as you see it's available.
We hope the above makes things clear and we thank everyone for their patience and vigilance! :-)
--Mr & Mrs Muki
12/16/2016
Portfolio 153, "Auctioned & Cooked Ex-Girlfriend!" is now served...
This quirky set was inspired by a manip by ChinaLady, who made it for us as a little tribute. We enjoyed the pic so much that we made a whole portfolio around it! Thank you so much, CL!
Below, we have our opening image and her original manip...
As usual previews and purchase details can be seen here and we have a sample on our "pic of the week" page.
Enjoy and play safe!
--Mr & Mrs Muki :-)
Our pic: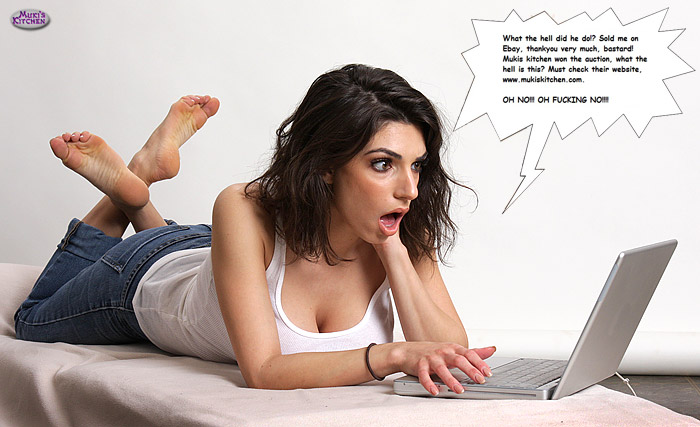 ChinaLady's manip:
11/11/2016
Portfolio 152, our Thanksgiving set, is ready to eat!
Starring Kylie Page (aka, Bonnie Kinz), this is a solo girl, live-roasting portfolio.
As usual previews and purchase details can be seen here and we have a sample out take on our "pic of the week" page.
Enjoy!
--Mr & Mrs Muki :-)
10/14/2016
Portfolio 151, now being served...
Darcie Dolce grills Lana Violet! Darcie is really the perfect wicked chef and we chose her for the role very deliberately. Lana is cute and delicious, making her a wonderful entree. Now we know what you're thinking: Darcie looks pretty deliciuos herself! Not to worry, Darcie enjoyed the shoot and has already agreed to come back as the main course! But the current portfolio makes a fine Halloween set and we are very pleased with it!
As usual previews and purchase details can be seen here and we have a sample out take on our "pic of the week" page.
Enjoy!
--Mr & Mrs Muki :-)
9/8/2016
Portfolio 150 is ready to eat!
We promised that we already had another portfolio shot (even before we worked with Codi) and here it is. Klara Gold (aka Assh Lee) plays the bootyful entree and Kendra James roasts her up right.
And we are back in force! We have already scheduled a shoot for next week, featuring a cute and delicious young blonde, and are planning a couple more. Stay tuned...
As usual previews and purchase details can be seen here and we have a sample out take on our "pic of the week" page.
Enjoy!
--Mr & Mrs Muki :-)
8/5/2016
Portfolio 149 (part 2 of 2 parts) is now being served!
Yummy Codi Vore gets cooked (for real!) in the 2nd half of this scrumptious 2-part portfolio! Still a very weird story and we leave it up to you to judge. We love it!
As usual previews and purchase details can be seen here and we have a sample out take on our "pic of the week" page.
Enjoy!
--Mr & Mrs Muki :-)
2.
7/25/2016
Portfolio 148 (part 1 of 2 parts) is now being served!
We sincerely apologise for being AWOL for nearly the last 2 years. As we've mentioned on some of the WE boards, we really just needed a break... To catch everyone up, here is a condensed version of our story:
The fire is past history. We had to fight for insurance settlement, city permits for both demolition and new construction, our contractor, and our independant claims adjuster. To call it a fucking nightmare is the understatement of the decade. But it's done! In fact, it has been done for about the last two years. So why the absence? We don't know if we can really explain this well but, after all of the struggles and all of the fighting, the wind just blew out of our sails. We simply needed the break...
But we never really went completely away! We continued to update our past portfolios and we kept our finger on the pulse of the community. We never lost interest in cannibal fantasy and were always on the lookout for something to nudge us out of our funk and inspire us to create new work...
The inspiration came in the form of a muse: We discovered Codi Vore and just knew that we had to shoot a portfolio featuring her. Codi is a cannibal fetishist's dream come true. She is incredibly booby, soft and plump in all the right places, and actually fantacizes about vore! She sees herself as "prey" and that was just fine with us. ;-) Best of all, she loved our site and agreed to pose for us.
Which brings us to our current offering: As soon as we booked Codi, we set ourselves to thinking about just what kind of scene we wanted to present her in. What we came up with has to be both our gentlest and our sickest story ever. We really don't know how else to put it. You folks be the judges and let us know if we scored on this one...
And just to assure everyone that we are really back to stay, once we booked Codi for her shoot, we hired an agency girl to do one even before Codi's. We have another brand-new set "in the can," that we will be posting shortly after we put up the 2nd part of Codi's story (which we are editing now and will be posting VERY soon)!
As usual previews and purchase details can be seen here and we have a sample out take on our "pic of the week" page.
Enjoy!
--Mr & Mrs Muki :-)
2.
9/20/2014
Portfolio 147 is now being served!
Roses may be red but some Violets get cooked! We prepared this Violet with oil, black pepper, and slices of pineapple... As usual previews and purchase details can be seen here and we have a sample out take on our "pic of the week" page.
Enjoy!
--Mr & Mrs Muki :-)
2.
7/7/2014
Portfolio 146, is finally ready to eat!
Yes, we know it has been quite a while since our last update... We've been very distracted with other things and have let our site lapse for way too long. We will have a more complete explaination on our "news & updates" page soon -- promise.
In the meantime, we have a new set! DeeDee (aka Devilish Diana) agreed to pose for us and we quickly accepted. This unusual portfolio features a completely bald model (and we're not just talking about "down there!") and we think it turned out great. As usual previews and purchase details can be seen here.
Enjoy and play safe!
--Mr & Mrs Muki :-)
2.
12/7/2013
Portfolio 145, "Jewell is Fattened Up and Roasted!"
We decided Jewell could use a little bit of plumping up before cooking her, keeping her penned for a few weeks and feeding her as many fattening treats as she could eat. This portfolio shows the latter part of the process, where her meat is getting nicely marbled and we finally roast her in our oven. As always, details for the current set can be see on our Pic-of-the-Week page and here.
In other news, work on our replacement building has actually begun!
Enjoy and play safe!
--Mr & Mrs Muki :-)
2.
10/30/2013
Portfolio 144, "Batty Witch's Brew!"
Barely in time, we have prepared a fun little Halloween portfolio. Starring Andrea Rosuand our giant cauldron, this set is cute, sexy, and delicious! As always, details for the current set can be see on our Pic-of-the-Week page and here.
In other news, the city has finally approved our plans for a replacement building and granted the permits. Almost two years after the fire and we just might be having the new foundation poured next week...
Enjoy and play safe!
--Mr & Mrs Muki :-)
2.
10/5/2013
Portfolio 143, "Prime Cuts 2!"
So, this month's portfolio is another of our once-every-two-or-three-years "cuts" sets. We go through a bunch of our recent portfolios (23, in this case), looking at the original images, and create a collection of out-takes and up-sized PWs. We made this one extra-meaty, with 56 images (over 20mb worth of data) and all previously unpublished in the usual, full portfolio size.
Yes, these kinds of sets must seem like a little bit of a cop-out on our part but we definitely have a good reason: Last Wednesday, Mr Muki took a nasty spill while riding his bicycle. No broken bones or major injuries; just a whole lot of ugly road-rash, mostly on the hands and forearms. My limbs are wrapped up like a low-budget mummy (just in time for Halloween!) and, while the pain isn't unbearable, I'm quite sore all over and not at my best... Oh well, they say there are two types of cyclists; those who have fallen and those who will.
We do have a real Halloween portfolio coming, and it was our intention to be putting it up this weekend, but it requires more thoughtful editing than we are capable of giving it right now. We will aim to have it ready on the weekend before Halloween.
As always, details for the current set can be see on our Pic-of-the-Week page and here.
Enjoy and play safe!
--Mr & Mrs Muki :-)
2.
8/10/2013
Portfolio 142, "Will Work as Food?"
Agatha returns to Muki's Kitchen, this time playing a stripper who doesn't get the tip she was expecting! After dancing for her exclusive clients, she finds herself shackled to a grill and roasted alive.
As always, details can be see on our Pic-of-the-Week page and here.
One other note: due to family matters and some much-needed vacation time, our next portfolio will probably come a little later than usual...
Enjoy and play safe!
--Mr & Mrs Muki :-)
2.
7/5/2013
Portfolio 141, "Mommy's Little Chicken..."
Okay, true confessions time: When Mr Muki was just a kid, he sometimes imagined that his parents were secretly planning to cook him and eat him. No, it wasn't a nightmare, it wasn't because of a bad or stressful childhood, and I still have a great relationship with my parents to this day. These were just simple childhood musings and it was fun to scare myself with such silly thoughts. It was also probably the first seed of this odd little fetish...
First-time model, Coco Rose, was an absolute pleasure to work with. (She was also more professional than more-than-a-few of the professionals we've hired in the past!) She and GirlRoaster had a lot of input on the scene and requested that we do something where the chef has a bit of a retro-look. Diana Knight came up with the idea of the victory curls and we all worked out the costuming together. Originally, it was just going to be a simple, 50s-style scene and we directed Diana to play her character with a constant closed-mouth smile and Coco to play it like a dream. Both delivered their performances perfectly and it was only when we reviewed the finished pictures that we saw the story as we are presenting it here.
This is one of our favorite portfolios ever! In a strange way (that we weren't even aware of when we were shooting it) these images capture a distant memory and illustrate what should be a nightmare as a loving little childhood fantasy. Not everyone will see it that way but Mrs Muki and I think it's one of our very best. We hope you enjoy it too!
As always, details can be see on our Pic-of-the-Week page and here.
Enjoy and play safe!
--Mr & Mrs Muki :-)
2.
5/24/2013
Portfolio 140, "Broiled Surfer Bunny!"
Britney Young came to us through an agency connection and we definitely lucked out. Professional as well as pretty, she completely understood the concept behind Muki's Kitchen and was a pleasure to work with. Best of all, she turned out to be every bit as delicious as she looked! As always, details can be see on our Pic-of-the-Week page and here.
Enjoy and play safe!
--Mr & Mrs Muki :-)
2.
3/29/2013
Portfolio 139, "Banquet of the Vanquished Wrestler!"
Some time ago, San Fransisco model Serena Blair contacted us about posing. We finially had the chance to make this happen and we just couldn't be more happy about it. Serena is a pleasure to work with and has such a delicious little figure that it was all Mr Muki could do to restrain himself from casting his professionalism aside and just eating her up! As always, details can be see on our Pic-of-the-Week page and here.
Enjoy and play safe!
--Mr & Mrs Muki :-)
2.
3/2/2013
Publicity, bad and good...
It is sometimes said that any publicity is good publicity but lately we aren't so sure about that! In an effort to balance the scales a little bit, we are offering up this oldie-but-goodie; A wonderful article written by Liz Langley, in November of 2010:
http://www.edenfantasys.com/sexis/sex/cannibal-fetish-appetites-1124103/
Enjoy, be safe and remember, not all cannibals are evil!
--Mr & Mrs Muki :-)
2.
2/15/2013
Portfolio 138, "Planked Pork Platter!"
Christina Carter, Anastasia Pierce, and Diana Knight star in this 3-model portfolio of delicious long-pig preparation and serving. As always, details can be see on our Pic-of-the-Week page and here.
Enjoy and play safe!
--Mr & Mrs Muki :-)
2.
12/19/2012
Portfolio 137, "Yoga Roast!"
Jewell Marceau plays a consensual meat-girl, climbing into the roasting platter and allowing herself to be cooked in a delicious-looking yoga pose... As always, details can be see on our Pic-of-the-Week page and here.
Enjoy and play safe!
--Mr & Mrs Muki :-)
2.
10/20/2012
Portfolio 136, "Chicken-Style School Girl!"
Another FetLife find for us, Ginger S had never heard of Muki's Kitchen but loved what she saw when introduced to it. The outfit was inspired by her previous spanking work. As always, details can be see on our Pic-of-the-Week page and here.
Nothing new to report on our post-fire woes but it's getting close to a year now and nothing is happening fast...
Enjoy and play safe!
--Mr & Mrs Muki :-)
2.
8/31/2012
Portfolio 135, "Rotisserie Redhead!"
We met Andrea Rosu through a social networking site that is often used by models and photographers. Her first reaction on seeing Muki's Kitchen was to say, "I was chuckling the whole time I was browsing through your site!" Being an avid fan of bondage art, she suggested the the scene, "I want to be roasted like a little lamb!" Fun, professional, and definitely delicious looking, we hope to be able to work with her whenever her travels bring her into our area. As always, details can be see on our Pic-of-the-Week page and here.
The post-fire cleanup is done but the rebuilding plans are moving at a frustratingly glacial pace. Not much to report at this time...
Enjoy and play safe!
--Mr & Mrs Muki :-)
2.
7/27/2012
Portfolio 134, "Smoked Girl-Ham!"
Cami Smalls is an adult-site model and exotic dancer. Though she hadn't heard of Muki's Kitchen and cannibal fetish before, she was recommended to us by our favourite modeling agency and she totally got what we were after. At only 21 years old and rather petite, at 5'1" tall, she is very nicely padded and just a perfectly tasty-looking morsel. (Honestly, it was all we could do to keep from really eating her up! :-) For those cannibals who prefer their meat well-marbled, Cami is just about as deliciious as they come. As always, details can be see on our Pic-of-the-Week page and here.
In other news: The post-fire cleanup is finally moving along. The burned house has been removed (which was rather sad to see, as it had been built in 1905) and most of our studio utilities have been re-connected on a temporary basis. We are now working on more permanent solutions and are hoping that the worst is behind us...
We do have a couple more shoots in the works, so do stay tuned!
Enjoy and play safe!
--Mr & Mrs Muki :-)
2.
6/8/2012
Portfolio 133, "Princess"
Summer Cummings is featured in this solo-model portfolio that was loosely inspired by a comic strip drawn by our friend and model, Agatha. The basic story (told only in pictures) is that Summer is a princess who dances for her master. Her reward, if she does well, is to be cooked up for an elegant banquet. In this portfolio, our entree is willing and eager to please, both as a performer and a meal! As always, details can be see on our Pic-of-the-Week page and here.
In other news: The post-fire cleanup is really dragging on. You'd think it would be done and forgotten by now, with rebuilding well under way, but no... Government inefficiency has one branch threatening to cite us for not moving quickly enough and another department dragging their feet in issuing demolition permits. Arghhh!!!
We will do our best to keep up with monthly updates but some of this is just out of our hands -- we will definitely not be able to shoot for the week or so that the bulldozer is working and we can't schedule a shoot if we don't know exactly when that will be.
Enjoy and play safe!
--Mr & Mrs Muki :-)
2.
4/27/2012
Portfolio 132, "Cooking Candle..."
Candle Boxxx was referred to us by Jewell Marceau and makes her debut at Muki's Kitchen. A delicious looking Southern treat, she was as fun to work with as she was tasty. One bonus is that Candle was fine with anal insertion and, unlike our past portfolios, the garnish in her rear was not faked! As always, details can be see on our Pic-of-the-Week page and here.
In other news: we may be a couple of weeks late with our next portfolio, as we're reaching a point in our post-fire clean-up/rebuilding where we may not have the ability to use our studio for a short while. We will maintain updates on past portfolios and will keep everyone posted on what's going on...
Enjoy and play safe!
--Mr & Mrs Muki :-)
2.
3/30/2012
Portfolio 131, "Kobe Beef?"
Kobe Lee returns to Muki's Kitchen and is prepared as (what else?) Kobe beef! Jewell marveau plays chef, feeding Kobe mass quantities of beer and massaging her supple flesh. As always, details can be see on our Pic-of-the-Week page and here.
In other news: we have a new shoot (with a new model!) scheduled for next week. Post-fire business continues to drag on but we are finally making the time to get on with cooking...
Enjoy and play safe!
--Mr & Mrs Muki :-)
2.
2/20/2012
More post-fire follow up...
(If the above title thows you off, please read our previous two entries.)
Things are moving even slower than we anticipated. The good news is that we have started scheduling shoots for March and April but the bad news is that the earliest a new shoot will appear as a finished portfolio would be the very end of March. We are working on it and doing our best to make things happen as quickly as possible.
After many requests, we decided to use this down-time as an excuse to temporarily bring back the "Bistro" portfolios. We have put our first bistro shoot into past-portfolio slots 15 & 16 and will put up our second guy-on-the-menu shoot when we take the first one down. Please be aware that we have no plans at this time to make the bistro portfolios permanently available and, if this is what you want, we urge you to get it now. We also expect these bistro portfolios to be rotated out of their slots much quicker than the usual fare. If these interest you, please don't hesitate.
Thanks to all, for your patience and continued support.
--Mr & Mrs Muki :-)
2.
1/23/2012
Post-fire follow up...
(If the above title thows you off, please read our previous entry.)
So things proceed at a near-glacial pace... We now have power to our studio and have just gotten water. All of this means that we may be able to start scheduling shoots within the next two or three weeks.
Clean-up is slow and the insurance adjusters are even slower... Much of our time is spent goading them on. It looks like we will pull through this crisis okay -- if we don't die of old age before that! (Just kidding -- we may be old but we're not that old! ;-)
In the meantime, we have added two more portfolio slots to our potluck portfolio section, so past work should cycle through faster.
Most of all, we would like to thank everyone for their patience and continued support. We have received a lot of emails wishing us luck and we would like to thank each and every one of you for your kind thoughts and good wishes!
--Mr & Mrs Muki :-)
2.
12/17/2011
Important news...
Regular customers and visitors will probably already have noticed that we are behind in our updates and have not yet announced the coming of a new portfolio. Most of you also know that we tend to be rather quiet about our private lives... This is one of the few cases where some public sharing is needed:
A few weeks ago, we had a major fire on the property where our studio is located. The good news is that no one was hurt and our shooting facilities are not damaged. The bad news is that one structure (not the studio) was completely destroyed.
At this time, we have only limited utilities at the studio (no water and no gas to heat it with). It will probably be some time before things are restored to the point where we can schedule a photo session. Our best guess is that we won't be able to produce new work before February, 2012.
We want to assure everyone that we fully expect to get through this and have no intention of quitting. This is really just a temporary setback for us and, in more ways than we can count, we consider ourselves very lucky that these unfortunate events did not play out much worse than they did...
During this recovery time, we plan to continue with past portfolio updates and we will continue to maintain the site. (Mr Muki's new full-time job is dealing with insurance adjusters, cleanup crews, and rebuilding contractors but we will do our best!) Portfolio purchases are not affected and no one needs to be alarmed. If the delay in getting to new work lasts longer than we expect, we might temporarily shift a few more portfolio slots into past-portfolio status -- to make more work available, even if it is not new work. (When the crisis is under control, we will go back to our standard current model of having eight slots for new work and eight slots for past portfolios.)
Thanks to all, for your patience and continued support.
Lastly, we would like to wish everyone a safe, happy, and fulfilling holiday season!
--Mr & Mrs Muki :-)
2.
2/25/2011
Portfolio 123, "Life in the Food Chain..."
Kara Dax, Jewell Marceau, and Christina Carter star in this unusually large set: When editing, we wanted to tell the story in a certain way and found that it just needed more than our typical 40-ish images -- but not enough to split it into two parts. Another interesting thing about this portfolio is the somewhat more serious tone (at least compared to our usual style): We wanted to make it just a little bit more frightening and directed the models accordingly.
As usual, details can be see on our Pic-of-the-Week page and here.
One more thing: This portfolio has a somewhat more detailed showing of the cleaning out process (enema and douche) and we wanted to give a quick shout-out to our friends at medicaltoys.com for helping us with the very specialized props that we needed!
Enjoy and play safe!
--Mr & Mrs Muki :-)
2.
9/25/2010
Muki's Kitchen in a new book on fetishes!
Quite a few years ago, we were contacted by Angela Lewis and interviewed for an article about our kinky little fetish. The piece was published in the Winter 2005 issue of Australian Councelling Association's Journal. We were very pleased with the whole thing and, if you've never seen it, you can read it online as a PDF file:
ACA Journal, Winter 2005
http://www.theaca.net.au/ca_archive/ACA%20Mag%20Vol5%20No2%20Winter%2005.pdf

(Please note that the article is on page 44 but shows up on the 14th page of the PDF file.)
Since this was published, we've become good long-distance friends with Angela (who lives in Australia) and cheered her on when she earned her PhD and when she proposed doing an entire book on fetishes, their comminties, and the people involved. Well, the book was recently finished and published!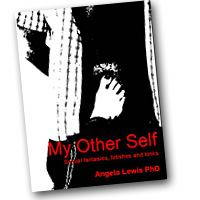 Clicking the thumbnail above will take you to Angela's site for the book (www.myotherself.com.au), with excerpts and options to buy either a paperback copy or a downloadable digital version. Please understand that this is a book on sexual fetishes in general and that "cannibal fantasy" occupies only a few pages but she also mentions us a couple of times in the beginning of the book. We are very happy with the end result and proud of our own small contributions to Angela's research.
Check it out!
--Mr & Mrs Muki :-)
2.
5/28/2010
Portfolio 115, "Tanya Tastee" is brewed and ready to eat!
This portfolio update is our modest little homage to cartoonist Mike Kreffel. Many years ago (just shortly before Muki's Kitchen made its debut on the net) Mike drew a few panels featuring the aptly named Tanya Tastee, a quirky blonde who somehow always wound up a few links low on the food chain. We've always been charmed by the carefree manner in which she accepted her delicious fate and have been wanting to do a photo set featuring her for some years now. When we met Emily Addison, we knew that we had found the perfect model to play the role. For those of you unfamiliar with this hapless heroine, here is a small sample of one of Mike's panels (and the one that we used as our main inspiration):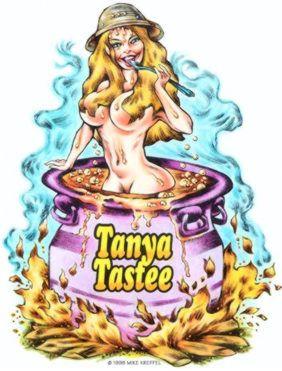 Sadly, we tried looking Mike up and learned that he had passed away in 2008.
For details about our own take on Tanya Tastee, check out our Pic-of-the-Week page and here.
Enjoy and play safe!
--Mr & Mrs Muki :-)
2....
10/15/2009
Muki's Kitchen "spotlighted" in the October issue of AVN Magazine!
Earlier this summer, we were approached by Nelson X, of Adult Video News Magazine, about doing a short interview and having our site featured in one of their "spotlight" pages. We have just learned that the issue with us came out earlier this month! For anyone who is interested in seeing it for themselves, it is the October 2009 issue.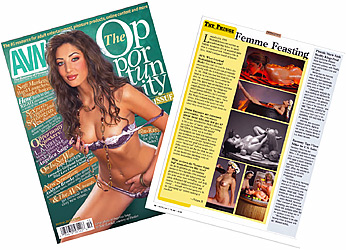 If you just want to read the story, without buying the magazine, you can try this link (though we do not know how long it will work!):
http://www.digitaleditiononline.com/publication/?i=23550&pre=1
Our story appears on page 82, in a column called "The Fringe".
Check it out!
--Mr & Mrs Muki :-)
2....
9/25/2009
Portfolio 106, "Kina on the Rotisserie!" is our 10th Anniversary set!
On October 1, Muki's Kitchen will officially be 10 years old -- Our home page, with a promise of more to come, went online on October 1, 1999. Honestly, we never imagined that we would make it this long! There were some tough hurdles in the beginning (our first billing processor went under, taking all of our sales with them!) and we thought about pulling the plug more than once. Looking back though, it's been a fun 10 years and we feel ready to try for 10 more!
In keeping with our celebratory mood, our 10th Anniversary portfolio is really quite special. See for yourself on our Pic-of-the-Week page and here.
Other news: With 106 portfolios under our belts, we feel that it is time to pick up the pace in making older sets available to new fans. Starting two weeks from now, "current" portfolios will stay active for 10 months (instead of a year) and we will shift slots 11 & 9 to our past portfolio section. This means that there will now be six past portfolios available at a time! (If this change goes well, we may move two more slots over within a year, making the distribution an even 8 past and 8 current...)
Enjoy and play safe!
--Mr & Mrs Muki :-)
2....
6/19/2009
Portfolio 103, "Chiquita Asada!" es muy caliente!
April O'Neil is a spicy dish in this Mexican cusine portfolio! Previews can be seen on our Pic-of-the-Week page and here.
In other news: Every now and then, we make it a point to plug our name into various search engines and see what comes up. And every now and then, we get a very pleasant surprise! Spanking fetishist, Pandora, from the UK, wrote an entry in her blog that listed her various other kinks and mentioned us. What she wrote was so eloquent, so insightful, and just plain spot-on, that we can't resist sharing it. Clicking on the image below will take you to a slapped-together, cut-and-paste, excerpt of her blog, showing only her mention of cannibal fetish and us.
If you wish to read her entire article on fetish (well worth it!) you may click on this link:
If you want to explore her site from the beginning (Also highly recommended!), click here:

Enjoy and play safe!
--Mr & Mrs Muki :-)
2....
11/28/2008
Happy Thanksgiving!
As usual, we were out camping over the past week (a Thanksgiving tradition for us) but we just got back. Hope everyone had a great Thanksgiving holiday and ate plenty of girl!
Two sites put up special Thanksgiving Muki posts and we want to give thanks by mentioning them here:
http://www.nickscipio.com/pod/2008/11/27_thanksgivingbird.html

http://www.tinynibbles.com/blogarchives/2008/11/exclusive-lovin-from-mukis-oven
Have fun and remember to always play safe!
--Mr & Mrs Muki :-)
2....
11/14/2008
Portfolio 96, "Elegant Turkey!" is ready just in time for Thanksgiving!
What do January and Thanksgiving have in common? Usually nothing but in this case, we cooked up January Seraph as our Thanksgiving dinner entree! Previews can be seen on our Pic-of-the-Week page and here.
In other news: Gurgurant has graciously agreed to put up our banner from the now-defunct Woman Eater Forum on his Cookbook for Cannibals links page and somewhere inside The Encyclopedia of Cannibal Movies. We missed having those and are thankful to him that they are being put to use again. Check them out!
Enjoy and play safe!
--Mr & Mrs Muki :-)
2....
7/25/2008
Muki's Kitchen mentioned (twice!) in Scarlet Magazine!
As hinted in our previous update, we have been granting a few selective interviews: UK women's magazine, Scarlet, was so taken with our site that they mention it in two consecutive issues! The July issue (cover on the left) has an article about fun sex play with various fetishes and we helped out with the "sex partner as food" portion. The August issue (cover on right) has a 2-page interview with Megh and we contributed the photos and side-bar...
Check them out!
--Mr & Mrs Muki :-)
2....
7/11/2008
Portfolio 92, "Island Girl Soup!" is brewed and ready to serve!
Nautica Thorn in a self-cooking pot portfolio! Previews can be seen here and on our Pic-of-the-Week page...
Other news: Muki's Kitchen was recently reviewed at "The Daily Naked." This one caught us by surprise and we did not participate in this review in any way. What makes it interesting is that it is written by someone who is definitely not personally involved in the WE fetish but is obviously open-minded and able to present a unique perspective on it. Check it out at:
http://thedailynaked.com/2008/07/bad-taste-the-cannibal-eroticism-of-mukis-kitchen/
The webmaster tells us that he doesn't usually get much feedback but is always interested. Feel free to make use of the "comments" feature and share your thoughts. We will keep tabs in it ourselves and might comment on some of the comments ;-)
We also have two other interviews in the works but don't want to jinx things by giving out details too early. As soon as we hear of firm publication/posting dates, we promise to share.
That's all for now...
Enjoy and play safe!
--Mr & Mrs Muki :-)
2....
2/21/2008
Major site update -- finally!
Regular visitors have probably gotten tired of hearing how we are going to update our pages. The trouble was that we kept going back and forth about just how much of an overhaul this would end up being. We definitely wanted to preserve the simplicity of our site but we also wanted to make it look a bit more contemporary and less like something we just threw together at home. Computers and internet connections have gotten faster since Muki's Kitchen first went on line and most people's monitors are bigger than the old 640x480 standard. It was time (some might say well past time...) to get with the program and embrace the current trends. We think we've succeeded but you folks are the ultimate judges.
If anyone notices any broken links or pages that have weird formatting, please let us know. We checked everything several times but there's always a chance that we missed something.
For the technically inclined, here is a short list of what we did:
Designed a new navigation bar that uses small (under 4k) GIFs as buttons, replacing the quaint HTML text-links we used to have.
Redesigned the site for a browser window that is 800 pixels wide (or wider), since most people do have larger monitors and no one keeps their browser window set to 640 anymore.
Spiffed up the "About" page, adding pictures to our overly-verbose text.
Updated our 4 "Samples" pages and made the pictures somewhat bigger. We assume that most people's internet connections are better these days and wanted to showcase our work a little more.
Cleaned up our home page and put up a nicer version of our signature image.
Removed all but one link to the dead Bistro section (sorry!). If you want to see it as it last looked, we kept a single link to it on our FAQ page.
Brought our portfolio list page up to date. If you want to see it, there is a link to it on our FAQ page or you can click here -- but remember, this list is for historical purposes only and the only portfolios currently available are on our regular "Portfolios" page, accessible from the nav bar.
Hopefully this will work better for everyone. If not, we'd like to hear about it!
We will be updating our long-neglected "Links" page this weekend. Promise!
--Mr & Mrs Muki :-)
2....
11/1/2007
Halloween fun!
We hope everyone had a safe and exciting fright-night! Our silliness took an extreme turn and Mrs Muki decorated our doorstep with the following: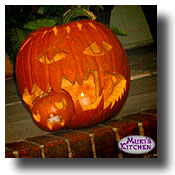 Cannibal pumpkins rule!
--Mr & Mrs Muki :-)
2....
9/28/2007
Portfolio 83, "Rotisserie Chick!" is now being served!
Starring Mz Berlin and Anastasia Pierce, this movie-clip portfolio features a chicken-on-the-spit style roasting. Poor Mz Berlin is tied to the shaft, turkey-style, and cooked slowly over an open fire. In addition to the usual still shots, there is a wonderful looping video clip for you all to enjoy -- our biggest and best yet!
As always, previews can be seen here and on our Pic-of-the-Week page.
Other news:
Unbelievable... We are now eight years old! Muki's Kitchen first went online on September 27 of 1999 and, despite some early setbacks, we have actually managed to stay afloat for eight full years. Still trying to grasp it all and, as always, we continue to strive to get better...
The MoSEX show, which includes 100 Muki images, has been extended through January. We also were invited to become a part of the permanent collection and, of course, we accepted. If your travel plans include New York City, be sure to stop by and see our display!
That's all for now...
Enjoy and play safe!
--Mr & Mrs Muki :-)
2....
5/25/2007
Portfolio 79, "Kabobed Roundbottom Salad!" is now being served...
Our favorite cann-toon artist returns to Muki's Kitchen, only to find herself captured by cannigals -- again! Megh plays the entree (of course) and Jewell Marceau and Anita Cannibal conspire to make her their dinner. As usual, previews can be seen on our Pic-of-the-Week page and here.
We've known of Anita Cannibal since long before we started up Muki's Kitchen and yes, that's really the stage name she's always used. No one was more surpised and pleased than us, when she wrote and asked to pose for our site. For her debut appearance, she brought abundant humor and enthusiasm.
In other news, Muki's Kitchen has been getting a little extra attention from some interesting places:
The Daily Tang, a streaming video page that reviews interesting and unusual porn sites, recently featured us in one of their segments. Hosted by the charming (and delicious-looking! ;-) Veronika Raquel, this little bit was both surprising and flattering. Check it out at:
Susie Bright, who has written about us twice in the past, recently added a link to Muki's Kitchen from her sidebar, essentially putting us on every page of her site! We are honored to be listed under the heading "Without You I'm Nothing..." -- Thank you, Susie! If you haven't seen her prior Muki write-ups, you can check them out on these two pages:
http://susiebright.blogs.com/susie_brights_journal_/2005/12/when_butter_won.html

http://susiebright.blogs.com/susie_brights_journal_/2006/10/turkey_stuffed_.html
That's all for now. Enjoy and please do play safe!
--Mr & Mrs Muki :-)
2....
1/26/2007
Portfolio 75, "Post-Holiday Hash!" is now up and being served...
Like leftovers that hang around long after the holidays, our current portfolio is a healthy sampling of images that just didn't make it into any of our regular sets. Not to fear though, this collection is filling (50 images!) and much more tasty than most leftovers. A hearty collection of out-takes, full-sized Pictures-of-the-Week, bloopers, candids, and production snaps, these shops will satisfy the most discriminating cannibal palette! Previews can be seen on our Pic-of-the-Week page and here.
We hope to get back to our regular shooting schedule within the next couple of weeks.
In other news: The Museum of Sex show, that will have a small Muki's Kitchen display, has now announced the show schedule. The relevant page, from their website, can be seen here:
http://museumofsex.com/exhibitions/kink/index.html
We were surprised, flattered, and thrilled when we received a postcard invitation to the show opening and found that one of our pictures was being used as the image side. Below is a small reproduction: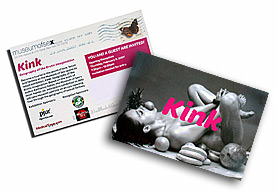 As we said before, mark your calendars!
--Mr & Mrs Muki :-)
2....
12/29/2006
MoSEX Press Release:
While monitoring our daily logs for traffic and referrals, we came across the following that may be of interest to everyone. More will be posted as the information becomes available to us.
Art Daily press release:
http://www.artdaily.com/section/news/index.asp?int_sec=2&int_new=18615
FleshBot announcement:
http://www.fleshbot.com/sex/events/k...sex-224232.php
Mark your calendars!
--Mr & Mrs Muki :-)
2....
7/21/2006
Bistro will get trimmed:
Because we know that some of our WE customers may be interested in the Bistro section but do not check on it frequently, we wanted to announce here that we are planning to scale back in that area in the next couple of weeks. Details can be seen here. After the Bistro is consolidated and trimmed, we will expand the "Past Portfolios" by one more set.
--Mr & Mrs Muki :-)
2....
1/13/2006
Portfolio 63, "Oven Roasted Tanya!" is served!
Our latest set features the delectable Tanya Danielle as the yummy entree and Ashley Renee as the capable cannibal chef. Proving once again that girls are as much fun to cook as they are to eat, this portfolio can be sampled here and on our Pic-of-the-Week page.
Other news:
We have a very full shooting schedule lined up for the start of the new year and will be introducing new models and a few twists for future portfolios.
As a result of Katharine Gates' article for the Village Voice, Muki's Kitchen was brought to the attention of noted pro-porn feminist and sex writer Susie Bright. Ms Bright wrote up a very nice little piece on both the article and our site in her online blog. If you get the chance, do check it out:
Susie Bright's Journal: When Butter Won't Melt in Your Mouth
(http://susiebright.blogs.com/susie_brights_journal_/2005/12/when_butter_won.html)
On a much less bright note (sorry, we couldn't resist...), there is a Muki-related thread on the Literotica Forum that really got us in a snit. Check it out and see for yourselves but do be sure to read all the way to the last post -- we responded with our own take on things and you can judge for yourselves. Your own comments would make for a lively discussion (you will need to register but it's free) and would bump this back up to the top, so it will be noticed. Thanks!
Finally, we are in the process of setting up an affiliate program, which means that those of you who have your own websites will be able to earn a percentage of our sign-up fee for new referrals. More details when it is in place...
Enjoy and remember to always play safe!
--Mr & Mrs Muki :-)
2....
12/16/2005
Muki's Kitchen in the Village Voice!
Another breakthrough into print for us, this time with a sensitive author who cares about the truth behind the fantasy! Katharine Gates, of Deviant Desires fame, visited our studios and wrote up a piece for the Village Voice. Entitled "Eat Me! A weekend among suburban cannibals" it can be seen in the printed version (December 14-20, cover below) or online by going to http://www.villagevoice.com/people/0550,gates,70911,24.html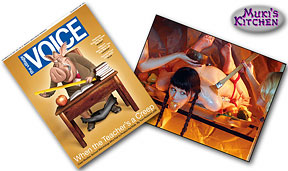 Good holidays and remember to only eat people you know!
--Mr & Mrs Muki :-)
2....
9/2/2005
Portfolio 59, part 2 of "Little Red Roundbottom" is ready for serving!
Jewell plays the chef and artist Megh is on the menu in the 2nd part of this wonderful story that was provided by our entree. Details can be seen here and the set includes 32 photos plus a Quicktime video clip. We hope you all enjoy it.
In other news: Muki's Kitchen has been reviewed on Jane's Guide and received Original, Quality, and Vamp's Pick ratings! We have long been fans of Jane Duvall's wonderful web site and, at the urging of friends and models, we finally submitted our site for review. We are grateful for the generous ratings, the wonderful write-up, and the honor. If you would like to read what Vamp wrote, our review can currently be found on the "New Reviews" page at:
Enjoy the new stuff and have a happy and safe Labor Day weekend!
-- Mr & Mrs Muki :-)
2....
8/13/2005
Portfolio 58, part 1 of "Little Red Roundbottom" is up!
Jewell plays the chef and artist Megh is on the menu in this wonderful story that was provided by our entree. Details can be seen here and the set includes 40 photos plus 3 drawn images (6 comic book pages) by Megh. Since this is part one of a two-part set, we will accelerate the posting schedule a little and have the second part ready by the first weekend in September. Part 2 will also include a video clip.
Megh has been busy with new art and much of it has taken a turn toward WE. Below is a snap of her standing with her latest piece (she often paints topless). The painting is for sale and if anyone is interested in purchasing it, please write an email to Megh, care of: muki@mukiskitchen.com and we will forward it directly to her. She promises to respond to all serious offers.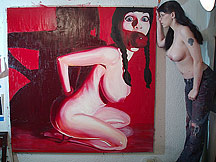 In other news (old now but we're officially announcing it here, for the record) we have finally added another "Past Portfolio of the Moment" slot to our Portfolios page. Quite a few folks have asked that we recycle early work more frequently and, in the case of two-part portfolios, that both parts be available simultaneously. To accommodate these requests, we have added a portfolio16 slot and there will now be two past portfolios all of the time. As with the original slot (portfolio15), the images in either of these slots could change at any time without warning. If you happen to purchase one of these portfolios shortly before the unannounced changeover, and your week of membership is still active, you would get the new set without needing to pay for it.
Please note: Since opening portfolio16 earlier this month, we have noticed that there is some misunderstanding about how this 2-for-1 deal works. This is all strictly a game of chance and the contents of the portfolio slot bought need to change during your week of access for you to get a bonus set. Buying the portfolio in slot 15 does not get you the portfolio in slot 16 for free. These are two separate slots and the contents of either (or even both at once) are subject to change at any time. We apologize for any misunderstanding about how this works and have changed the wording on our portfolios page to try and explain it better.
Enjoy the new stuff and remember to always play safe!
-- Mr & Mrs Muki :-)
2....
9/24/2004
Portfolio 49, "Witch's Brew!" is ready for serving!
An early Halloween treat! Complete details and thumbnails can be seen here. Also, we have an out-take from this set in our Picture-of-the-Week section.
Other news: While we tend to avoid getting too personal about our private lives on this page, something has happened that has put us seriously behind in our shooting. The very day after posting our previous portfolio, Mr Muki was involved in an auto accident. He's okay. He had stopped at an intersection to let an ambulance through and was rear-ended... A routine check in the hospital showed that everything is all right but the car was badly damaged and we've been sorting through all of the insurance nightmare. Needles to say, it hasn't been much fun and it certainly hasn't helped with our work.
This is why our Halloween portfolio is being presented a little early.
We are in the process of setting up new shoots and hope to be all caught up in time for our regular monthly updates. If we are a little late, we hope our customers and fans will understand.
On other subjects: We've updated our links page again and have added a permanent link to the Dolcett Girls Forum. Some of you may already know about this place, as it is certainly the most active of the WE forums right now. We find it to be a very friendly place and even the disagreements are conducted in a civilized manner. Take a moment to check it out and tell them Muki sent you!
Funny things happen when you drill deep into the various search engines! We were checking our stats recently and came across the following item:
It's dated Feruary 9th but we never saw it 'till last week. A real shame, as we're sure the WE community would have cast some interesting votes and comments... Still fun to look though!
Until next time, have fun and play safe!
--Mr & Mrs Muki ... :- )
2....
5/28/2004
Portfolio 45 is ready for serving!
Our latest portfolio is just wonderful (even if we do say so ourselves). Done as a 2-part comic book story, it features the beautiful Eden Wells in the role of the cannibal chef and Anastasia Pierce as the delicious looking entree. Both models were a blast to work with and had even rehearsed the scene before showing up at our studio (Eden is an experienced "rigger" and worked out the whole netting process with Anastasia in advance). The shots turned out spectacular and, in editing, we suddenly saw the basis for an interesting story -- hence the 2 parts and the comic balloons. We added a twist of our own and the whole project just came together.
Complete details and thumbnails can be seen here. Also, we have a sample from this set on our Pic-of-the-Week page...
In other news, we still have the set we did with Sasha Monet (our Pic-of-the-Week some time ago) and will be posting it later this summer. We have other shoots being lined up and we even have a special Halloween portfolio ready for October.
Finally, a silly item that may amuse our visitors: Every once in a while, we get added to some generic links page. Sometimes our site is found by some stupid web-bot that just zeros in on the word "kitchen" and then generates an automatic link and a mindless form letter that says something like:
Dear Webmaster ,

My name is Xxxx, and I am the editor of <web address of some cooking site>.
com. We are a relatively new site, and the site is specifically
designed to help people make their "dream kitchen a realty!".

I am currently working on building a list of sites to link with, and I
found your site to be both very informative and relevant to my visitors.
I have added your link to the links page located at...

blah-blah-blah... (sample only -- not an actual email)

While we usually make it a point to politely write back and inform the clueless folks that our "kitchen" is not exactly the sort of place your average homemaker would find useful, in one case they are not even bothering to check their email. So for the sake of everyone's enjoyment, we are posting our reciprocal link here:
If you visit, try to imagine some soccer-mom cruising the web in search of new recipes for her next lawn party and stumbling upon Muki's Kitchen! Don't these folks even look at the sites they're adding to their listings? Do they really think that our site would be "very informative and relevant" to their visitors? We found it kind of funny and hope you will too...
Until next time, have fun and play safe!
--Mr & Mrs Muki ... :- )
2....
4/16/2004
Site overhaul!
Yup, once every year-and-a-half or so, we completely revamp Muki's Kitchen. The time was right, we had a break in our shooting schedule, and we went ahead and did it! Our free areas are entirely updated and filled to the point of bursting now. We've added a little to our FAQ page, installed brand-new support and privacy pages, updated our "About" page, added new links to our "Links" page, and formally announced the current state of affairs at the Bistro.
In addition to the above, we have been working on new projects and have a sample of what's coming on our Pic-of-the-Week page. We have also announced the upcoming closure of the 2nd half of "How to Cook a Girl."
Along with this update, comes our semi-annual quasi-rant: Whenever we update our free area, it seems that we get hit with an increase in image theft and nasty hot-linking. While we've taken steps to reduce this, we do ask for everyone's help in warning us if our pictures start appearing at other websites. We know that our regular fans and visitors respect our work and our rights to maintain at least some sort of control over it. Still, shit happens and we just need everyone's help: If you see our stuff on another site or used in a manip, drop us a line and let us know. We appreciate it and can use all the help we can get...
We recently met a new friend at the Dolcett Girls Forum. Buffy put it so well that we asked her permission to quote her here. The material below was written in response to a recent hacking issue and was intended to admonish folks about the dangers of internet communication. While we didn't paste in the entire thread, what Buffy said about us was written so nicely that we couldn't put it better ourselves:

2) Beware of ANY site that offers what "society" may deem illegal (Dolcett Forums are pretty much protected so far by the freedom of speech part, but just cause it's legal doesn't mean people won't cause holy crap because it exists..see posts by Jennifer about Job situation), esp if it has a "Membership for a small fee" attached to it. I'm not saying ALL are like that, just saying be careful. Ask around, first. Be esp cautious about posting a credit card to gain access to a site that doesn't have an easy way for you to cancel said membership...always opt for a "Limited" access (good example- Muki's Kitchen. You pay for a portfolio, and you have only a week's access. I own quite a few portfolios I've downloaded from Muki, awesome photography! Plus they point out that it's strictly artwork..and NEVER claim to actually snuff people). Another is this site...Admittedly I was cautious about registering for even this free forum, but I got to know Perro and company, and I've gotten to trust them.

3) If it sounds too good to be true...you should put shields up and go in with photon torpedoes loaded. (yes, I am a Trekker..wouldn't you like to be a Trekker, too? Hee hee)

4) There are enough Freebies out there...
This esp is true..trust me. Just give it time if it's new. Example: I play the Sims, and I found a site that (for a small fee) I can download Tribbles that will crawl around my Sim's house. Weeeeelllll..a wee bit of computer work, searching, etc...and voila! I now have two very adorable tribbles running around my Sim's house and they didn't cost me a dime...cause someone else came up with the same idea and decided that if you've paid for the game, etc, then anything made by the game should be included...and not sold.
Exception: Muki's Kitchen. I will not actively seek to get free portfolios from Muki's Kitchen...The reason is simple. They have to hire models, buy props, buy webspace, etc. They create something unique and spend quite a lot of money doing it, and the quality shows. Don't even ask me to share the portfolios I purchased...I won't share! The diff between them and the Tribble Mongerers is that the Tribble Mongerers took a game that is owned by Maxis Corp, created a creature owned by Paramount Studios, and tried to make money off ideas they didn't own.

Thank you, Buffy! :- )
Another item we need to get off our chests, at the risk of sounding like we're begging, is: buy a portfolio or two. Visiting is fine but it really doesn't pay for expenses. We know that it's uncomfortable for some of you to buy over the internet. We understand that this is a sensitive issue. This is why we've put up a Privacy Policy page and tried to help out with a new Support page. (Permanent links to these two pages can been found on our main PPV page.) We try to give back to the community by sponsoring the occassional worthy site and, ultimately, we don't ask much for it. We're honest people and we promise to do right by you. Really... 'Nuff said!
And before our little semi-annual, quasi-rant gets totally out of hand, there's one more very important thing we need to say: To all of the many folks who have purchased portfolios and supported our efforts, thank you, thank you very much. We appreciate your kindness and are forever indebted to you -- you have made Muki's Kitchen possible and we love you all. Thank you, one and all!
Enjoy the updates.
Have fun and play safe!
--Mr & Mrs Muki ... :- )
2....
11/01/2003
General (weird) news...
Hope everyone had a happy Halloween and is enjoying the latest portfolio!
Some truly odd news to report -- Muki's Kitchen on TV! Yup, you read right... Here's the whole story:
This last summer, we were interviewed by a UK production team, for a show on unusual fetishes, to be aired on Sky One. The show's title was "The Big Fantasy" and was comprised of several parts. For our small portion of it, they flew out to California and interviewed us in our studio. They also taped a bit of a mock photo session, showing Mr Muki shooting D'arby in a platter. We recently heard from the folks at Annabelle's Fantasy that they caught the show and liked it. Unfortunately, we had expected to be notified when it was supposed to be aired and we intended to post an announcement here, in time for those who have access to Sky One programs to be able to catch it... As it stands, we still have not seen it ourselves (If anyone has seen it, and wouldn't mind writing up a brief synopsis, we'd love to hear from you! :-) but we are still working on that.
The photo session that was shown was entirely staged (we knew that there would be no opportunity for us to get a complete portfolio shot, while trying to accommodate the needs of the video crew). However, Mr Muki wasn't exactly "shooting blanks" either... ;-) As a special treat, we have posted 5 images from this mock photo session on our Picture-of-the-Week page. Enjoy!
*Please note, these images will only be up for the week -- they are not part of any portfolio and will probably never be re-posted...
As always, have fun and play safe!
--Mr & Mrs Muki ... :- )
2....
6/27/2003
Portfolio 34, "Leftovers, Again" is up and ready for serving!
Well, it's been a while since we've put up a "cuts" portfolio -- 22 portfolios ago, to be exact... So this month's portfolio is a collection of out-takes, full-sized pictures-of-the-week, and several previously unpublished images. To spice things up a bit, we've also thrown in a few bloopers -- with cameos by Mrs Muki, Gurgurant (acting as assistant) and notes on our mistakes. All in all, a fun group of pictures! None of the images from this out-takes portfolio have ever appeared in any other portfolio or have been published in their full size -- all are unique. If you've never bought a portfolio from us but have been thinking about it, this is a fine "sampler" that might help you decide which specific sets you might want. If you are a serious collector of Muki-portfolios, this group will nicely round out your collection. As with the previous set of out-takes, this collection is unlikely to ever make an appearance in our "Pot Luck" section -- get it while you can.
Just so everyone knows that we aren't only relying on previous work, our Pic of the Week is a sample from our latest shoot: Stacy Burke decided to join us in some fun and agreed to cook her friend, Jewell, rotisserie-style. We also shot some video and will probably be using this set to replace the Christine and Butter portfolio.
We have several new shoots lined up for this summer and are looking at new ideas to spice up the menu...
*Addendum 6/29/03: Shortly after putting up our latest portfolio, we began receiving emails asking why one or another particular shot was not included in its original portfolio. It occurred to us that we may have perpetuated a misunderstanding here... To set the record straight, a "Cuts" or "Leftovers" portfolio is not just bloopers and rejects -- sometimes a shot didn't make it just because the portfolio had enough images and something had to be cut!

Here is the process: When we start editing a portfolio, we begin by selecting all of the shots that look good enough to publish (no obvious errors) and move the storyline forward. This brings the number of images down to a manageable level but still leaves us with quite a few more pictures than we need. Then we go back over the remaining shots, this time with an eye toward pacing (are we spending too much time on one particular aspect of the story and not enough in another?). This is where many fine images get cut. These cuts are then usually reserved for "Pictures of the Week" -- it is generally our policy to keep most portfolio images completely exclusive and to use ones that didn't make it as the freebies. What we are trying to point out here is that the vast majority of portfolio 34 contains images that are perfectly fine and have no particular reason for having been cut from their original set (other than that there was simply not enough room to include them)!

Another point we neeed to make is that we goofed (again!): We had announced that all of the images in portfolio 34 are entirely unique and have never been published in any other portfolio... Upon looking a bit closer, we found two that had not actually been cut (only renamed). Our apologies for this! For the record: 42 of the 44 images in portfolio 34 are entirely unique -- 2 have been published previously.
Until next time,
--Mr & Mrs Muki ... :- )
2....
5/23/2003
Portfolio 33, "Boiled Babe" is up and ready for serving!
Finally, a new portfolio! For our latest set, we have cannibal-girl Sybil pot-stewing the delectable Gabriella Banks. We've also updated our Picture-of-the-Week with a sample out-take from this shoot.
In other news, Muki's Kitchen has been featured in print again! This time, the German edition of FHM Magazine ran a short article and four photos from our site (with our permission, of course). Here is a small scan of the page: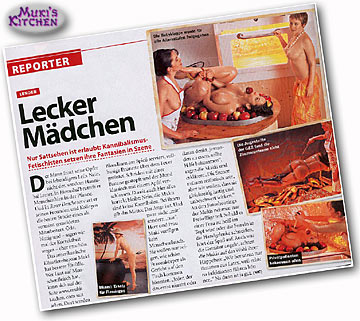 We are planning a new portfolio for production in early June and are also considering another portfolio of full sized out-takes (it's beeen quite a while since we've done one of those). We have a busy summer lined up, with new models in delicious peril.
As always, thank you for your support and enjoy!
--Mr & Mrs Muki ... :- )
2....
12/6/2002
Muki's Kitchen in "Bizarre" and other news!
While we have been pretty busy settling into our new home, we have also been busy in the studio! On December 20th, we will be putting up a new portfolio -- Shakira (not the singer...), in "Holiday Ham" -- and in preparation, we are closing the "Ondine as Long-Pig" portfolio to further sales next week.
For our latest Pic-of-the-Week, we have posted a shot from an as-yet-untitled portfolio that should be available sometime in January. Think of it as an appetizer! :-)
We are currently lining up the models and resources for yet another shoot which, if all goes as planned, should be a real winner. Wish us luck!
To hold everyone over while all of this is being worked on, we have a little snack for you: We've updated our "Past Portfolio of the Moment" to part 2 of "Syn Cooks Tami."
Also, in response to those of you who asked for this, iBill may be returning to Muki's Kitchen! We can't make any promises yet and we have not been given any sort of firm timetable on when (or even if) this will happen. The folks at iBill are working on the technical issues that will need to be resolved for them to make the move to our new webhost. We will keep everyone posted on what's happening here.
Finally, some time ago, we were contacted by the folks at Bizarre magazine and asked if we would consent to a short interview and provide some pictures for publication. We agreed and the issue is now out: Muki's Kitchen got a full page in the "Fetish-Special" issue of Bizarre! The volume is Bizarre 66 and we are on page 53. This is the first time (to our knowledge) that Muki's Kitchen has made it off the web and into print media! Here are some small scans to help you find it on the news-stand, should you be inclined to see for yourself: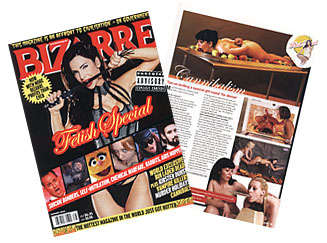 Until next time, enjoy and play safe!
--Mr & Mrs Muki ... :- )